Foremost, this website is dedicated to the memory of my father, Sgt. Howard Smith (#2085) who retired from the Harbor Unit in 1990 after 22 years in the Unit and 37 years on the Force. His love of the Harbor Unit, and its vessels, is evident in this portrait he asked me to take of him on Launch No. 7 circa 1986.
His retirement was not one of choice. He had reached the mandated age limit (62) and had to retire. I vividly remember on the day of his retirement when Harbor Charlie came by Pier 17 to pick him (and his family) up for one last ride. It was a fitting payback for his years of dedication. P.O. Kenny Hansen was aboard to welcome us and greeted us with characteristic enthusiasm that made me certain he would grow old in Harbor as did his own father and mine. Unfortunately it was not to be. P.O. K. Hansen died in the line of duty in 1991 in the waters off The Battery.
The NYPD Harbor Unit remains a fascination for many people - not the least of which are those who view them patrolling the harbors and bridges from their skyscrapers in Manhattan. The members of the Harbor Unit are a special breed who must not only master the law and police procedures, but seamanship and diesel mechanics as well. It's no surprise that members of the Harbor Unit are considered elite members of the force and, in many ways, irreplaceable.
This website was inspired by Gregory Porteus whose father worked very closely with my father in Harbor through the sixties and seventies. Greg, who is a Coast Guard Auxiliarist and retired state trooper himself, has dedicated considerable effort and resources to preserving the legacy of the vessels that my father commanded and loved. Greg's effort to restore a sunken 1960's vintage Launch No. 5 may have started out as an eccentric idea for a personal pleasure boat. But it's turned into a very productive U.S. Coast Guard Aux. vessel with five rescues under it's belt between 4-Jul-2002 and 5-Sep-2002.
I have now joined the United States Coast Guard Auxiliary and will be proud to serve on Launch 5 as my father once did.
Here is a picture of Sgt. Howard Smith with Mayor Lindsay circa 1968.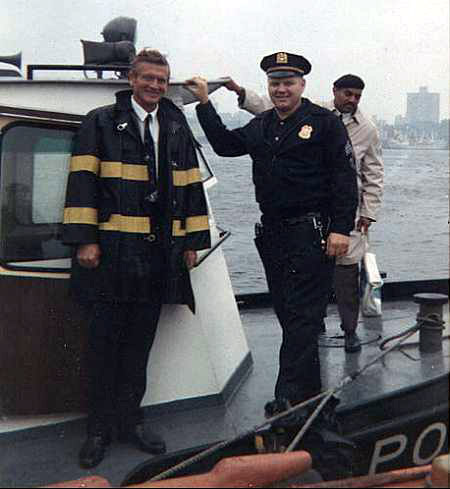 Personal Notes
During the 70's and 80's, my father's interest in NYPD public affairs matched my interest and experience in photography. He would occasionally get clearance to take me out on the Launches as the official event photographer. Many of the historical photos on this site are a direct result of that access. Below is a rare formation taken during Harbor Festival 1978. One of my favorites.
All Photos Copyright © BS artist